About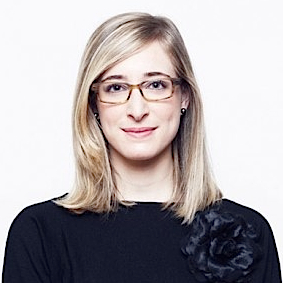 Abigail Jones is a writer, editor and bestselling author in New York City. She is a Senior Writer at Newsweek, where she has written cover stories on Cleveland abduction survivor Michelle Knight; child sexual abuse; the future of Cuba; primatologist Jane Goodall; America's college drinking crisis; the sexualization of tween girls, and homophobia in men's figure skating. She has also investigated the crime epidemic in Wilmington, Delaware, and the Slender Man stabbing. If you're in the mood for a love story, try this one.
Before joining Newsweek, Abigail worked at the Forward, The Daily and The Atlantic, and freelanced widely. She co-authored the New York Times non-fiction bestseller "Restless Virgins: Love, Sex, and Survival in Prep School," now a Lifetime Original Movie. She is a 2014-2015 Ochberg Fellow, and has received reporting fellowships through the Columbia University Age Boom Academy as well as News21. She is also on the editorial board of the Dartmouth Alumni Magazine, where she's a regular contributor.
Abigail has an M.A. in Arts and Culture Journalism from the Columbia Journalism School, an M.S. in Creative Writing from the University of Edinburgh, Scotland, and a B.A. in English from Dartmouth College. She graduated from Milton Academy. Born and raised near Boston, she plays squash and tennis, looks for any excuse to travel, and is the least-cool person living in SoHo you'll ever meet.