Books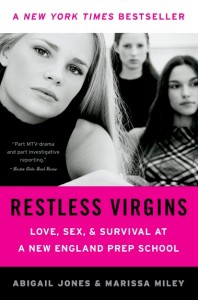 Abigail co-authored the New York Times and #1 Boston Globe nonfiction bestseller "Restless Virgins: Love, Sex, and Survival at a New England Prep School." Set during the '04-'05 school year, "Restless Virgins" follows the intimate lives of seven teens during the year of an infamous sex scandal at their high school, revealing the complex landscape of teenage sexuality and experience.
"Restless Virgins" received critical recognition in the New York Times Book Review, O the Oprah Magazine, The Boston Globe, Boston Magazine and on Time.com.
Now a Lifetime Original Movie! On March 9, 2013, "Restless Virgins" premiered as a Lifetime Original Movie starring Emmy Award-winning actor Timothy Busfield, Charlie Carver of "Desperate Housewives," "Switched at Birth" actress Vanessa Marano and "Supernatural" actor Max Lloyd-Jones. Variety called the movie "an unexpectedly compelling look at the caste system, cruelty and casual sex at a privileged prep school," and it was featured in the New York Times as the movie to watch in the week ahead.
"Part MTV drama and part investigative reporting." – Boston Globe Book Review
"The book offers a student's-eye view [and] reads like a compendium of the big gossip of the year. We hear it all…The students discuss their lives in detail – the hookups, the weight obsession, the spoils of popularity…. There's so much casual sex happening so rampantly that after the scandal breaks, the kids feel the adults are overreacting." – New York Times Book Review
"It is clear that something is very wrong in the life of contemporary teens… As Jones and Miley expertly document, today's teens have come a long way from simply worrying about a date for the prom." – O, the Oprah Magazine